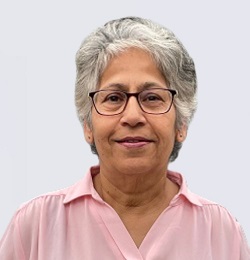 Psychologist, MAPS
Professional Memberships and Registrations:
Australian Psychological Society (Member)
Psychology Board of Australia
Medicare Provider (Psychologist)
Sangita is a registered Psychologist with 22 years of experience in providing psychological support via individual counselling and group treatment programs. Sangita completed her Masters, her M.Phil in Psychology and her post PG Diploma in Clinical and Community Psychology from India. She provides therapy to clients aged 18 years and older.
Sangita has worked in India (6 years) and Australia (16 years) across different sectors such as schools, parenting, residential, forensic and with general public. Experience of working with people from diverse cultural backgrounds and value systems has enhanced Sangita's understanding and appreciation of her client's specific challenges.
Sangita believes that a safe, non-judgmental, and supportive environment is the best space for the clients to explore their issues and to grow in. She holds Connection as the masterkey that is best carved through empathy and patience. Sangita encourages her clients to empower themselves through developing an appreciation of their values and strengths whilst also considering the obstacles that distract them from living their values. Sangita considers it a privilege to be but an instrument in her client's journey to self-awareness, enhanced self-confidence, and improved well-being.
Sangita appreciates the unique challenges faced by her clients and therefore utilizes an integrative approach in offering treatment that is based on client's treatment needs. The integrative approach includes but is not restricted to Cognitive Behaviour Therapy, Acceptance and Commitment Therapy and Solution Focussed Therapy.
AREAS OF EXPERTISE:
Stress, Anxiety, Depression, Behavioural issues, Substance use, Addiction, Grief and Loss support, Trauma, Relationship issues, Parenting support and General Well-being.
THERAPEUTIC APPROACHES:
Acceptance and Commitment Therapy, Brief-interventions, Mindfulness, Cognitive Behaviour Therapy, Solution-Focused Therapy
Sangita works at Mind Health Care on Thursdays and Fridays.