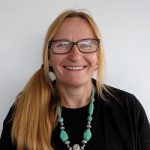 BSc, Grad. Dip Ed, B.Litt (Hons), MPsych (Clinical), PhD, MAPS
Clinical Psychologist
Mobile: 0423 521 540
Professional Memberships and Registrations:
Australian Psychological Society (Member)
Psychology Board of Australia
Medicare Provider (Clinical Psychologist)
Pat is a clinical psychologist with experience working in adult mental health. She has completed a doctorate in psychology and draws on her extensive knowledge when working with clients. Pat recognises the importance of developing and maintaining effective working relationships with her clients to optimise treatment experience and outcomes. Each relationship is unique and reflects qualities of each person and their interactions together. Qualities Pat brings to the therapeutic relationship include non-judgment, compassion, respect, openness and curiosity. She strives to develop a supportive space with her clients where experiences can be seen, heard and valued.
Pat works with her clients to identify areas of their life where they are experiencing problems and what they would like to change. Clients are encouraged and supported to develop clear goals and work actively towards achieving them to improve their wellbeing. Treatment plans are developed collaboratively and take personal strengths, needs and preferences into consideration. Treatment usually involves some work between sessions. This may include information gathering through self-observation or keeping a diary for discussion during sessions. Treatment is also likely to include introduction to evidence-based strategies from Cognitive Behavioural Therapy and Acceptance and Commitment Therapy to foster helpful ways of thinking and feeling. Practising these strategies between sessions is a key component of treatment that has been shown to reduce symptoms and improve outcomes.
Pat works with individuals aged 18+ with a range of concerns including:
Depression
Anxiety
Substance use
Symptoms of trauma and stress
Sleep problems
Pat works at Mind Health Care on Tuesdays, Wednesdays and Thursdays.